Featured Offer
Annual Rental Club Blowout is Back!
Complete 14-piece sets on sale now at GolfBC's B.C. courses!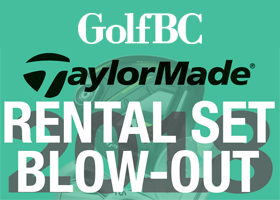 More Details
GBC Golf Academy Lesson Programs
The GBC Golf Academy offers instructional programs for golfers of all ages and skill levels. Please follow the links below to find complete details.
Get to know your Golf Professional!
One hour golf clinic for a group of 4 or more golfers
Covering tips on putting, chipping, and fill swing
Lunch and a golf presentation on the best approach to improving your golf game
$15 per person (lunch not included)
1, 3, or 6 hour Coaching
Individual or Groups of up to 8

Corporate Services

Junior Development Coaching

Team Building

Client Appreciation

Entertain and Educate
Additional Programs and Clinics to Enhance Your Learning Experience:
Video Swing Analysis - 60 min, $85 (individual)
Golf Club Fitting - 60 min, $35 (free if purchasing golf clubs)
Equipment Tune Up - 60 min, $50
Short Game Evaluation - 60 min, $85 (individual)
TPI Golf Fitness Screening - 45 min, $50 (individual)
Mental & Course Strategy Clinic: Decisions and Preperation - 60 min, $15 (up to 20 golfers)
Golf Fitness Sessions: Core, Posture, Strengthening & Stretching - 45 min, $15 (up to 20 golfers)
On-Course Clinic, Beginner/Intermediate: 2-3 holes - 60 min, $20 (8-12 golfers)
On-Course Clinic, Intermediate/Advanced: 4-5 holes - 90 min, $30 (8-12 golfers)
Food & Beverage: Breakfast, Lunch, Dinner, Appy's, or Wine - price varies
Practice Facility Pass
Golf Game Pass